The platform of learning..
The 'Yogic Concepts' has been founded with a vision to present Yoga in its original form by keeping in mind the system of Ashtanga Yoga of Patanjali, the pioneer who laid down the foundation for the traditional Yoga. Our aim is to spread traditions of yoga which are rooted in 5000 years old traditions to promote what exactly is the philosophy behind practice of yoga as described in the ancient authentic yogic texts i.e. Yoga sutras of Patanjali and Hatha Yogic texts. Same time our aim is to make people aware of scientific, physiological, psychological, and spiritual aspects of Yoga. So that students who have undergone through our teacher training, courses, retreats, healing and therapeutic workshops can be able to guide themselves and aspiring yoga students to promote Yoga in the right direction. Unfortunately, nowadays many modern Yoga Teachers do not give importance to the source of Yoga and associated various concepts and practices that constitute Yoga as a complete system. It is our foremost duty and responsibility to express our gratitude to those great seers and Sages who have handed down to us this wisdom and it is our responsibility to protect and spread these wisdoms by way of making people aware about it.
Anil Singh is the founder of Yogic Concepts who studied Yoga from the World-renowned Yoga Institute and School, Kaivalyadhama (Lonavla) India. Anil has more than 15 years of Teaching experience with educational institutes, yoga teacher trainings, and delivering Yoga classes in 5* resorts to high profile clients. He also has ample of experience in wellness field, working with world famous wellness resorts and has delivered Yoga based wellness programs successfully.
Anil and team are devoted their life to study the philosophical and practical aspect of Yoga and impart the teachings and traditional yoga to the world in a very simple and precise manner.
Prefect TTC!
"I took part in Yoga TTC with Kru Nok & Master at Yoga Ananda. I had already taken a 200 hour course years ago, but wanted adjustment practice and also a refresher in philosophy , for myself. I was not disappointed with either. Master Anil, who taught Philosophy, chanting, pranayama and meditation is a great man and a great teacher. He will answer any question you have, is very knowledgable but has a great sense of humour too. I learned so much that wasn't covered in my first TTC – it was thoroughly absorbing. Kru Nok was ever-present, ever patient and ever helpful. The course was very well organized, planned and executed. Thanks Kru Nok and Master Anil."
— Katharine Mary Day, UK
Healing!
"Sunil is by far one of the best therapists/teachers I have ever met. He has this unique ability to gauge exactly where tension and blockages are held in the body and how to deal with them. With his knowledge and advice, I have been able to overcome certain anxieties and fears and achieve things that I had been putting off for a long time. I am very glad to have met Sunil and grateful for all his support."
— Eshel Chanan, India
Lucky to meet Sunil!
"In January I had Pranayama, Yoga Nidra and philosophy from Sunil during my TTC, I was intrigued by the way he taught, no nonsense classes, by times confronting and emotional, but always interesting.
I had some personal issues, so I made a appointment for a one to one session at Yoganga Healing Center.
After several sessions, I felt different but wasn't aware of the impact.
Being back home, I realize that I was lucky to have met Sunil and that thanks to the sessions with him I will get back on track."
— Fany Vanderbeken, Belgium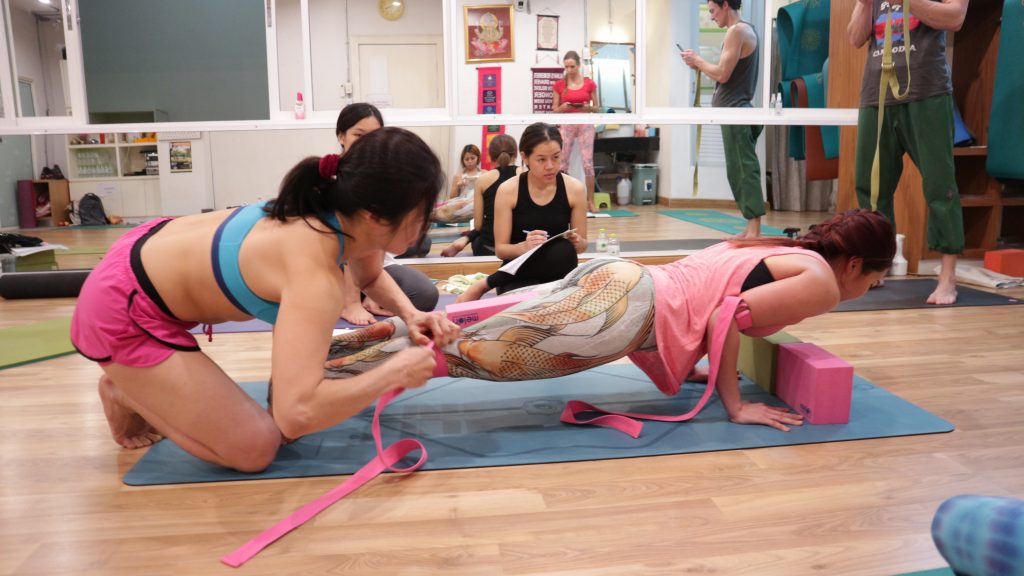 Your getaway to Yoga is waiting....
To join our upcoming Yoga Teacher Trainings, Special Workshops and Retreats...